Denver, CO
Denver, Colorado has been listed on multiple "Top 10" Lists for being a great place to live, work, and a great place for real estate development. The inventory of solid homes in need of a bit of rehab is plentiful, and investors and builders alike are clamoring for a piece of the action. Recently one of these very successful companies, Bene Homes, identified a rehab opportunity in a popular Denver neighborhood, utilized a loan from Private Money Immediately, and netted $65,000.
PRIVATE MONEY AT A GLANCE:
Years in Business:
2
Borrowers:
67
States Lending In:
45
Total Projects:
192
Borrower Profits:
$29,766,890.00
About the Borrower, Bene Homes
While in the midst of successful careers in corporate America and raising 3 children, Belvin & Vanessa Lynn set their sights on real estate investing. They were in search of a profession where they could combine past experience, their love for real estate, and passion for helping others. The two founded Bene Investment Solutions, Inc. in 2013, and have completed over $5,000,000 in real estate transactions since inception. Today, they continue to focus on growing their family business with the goal of putting their customers first.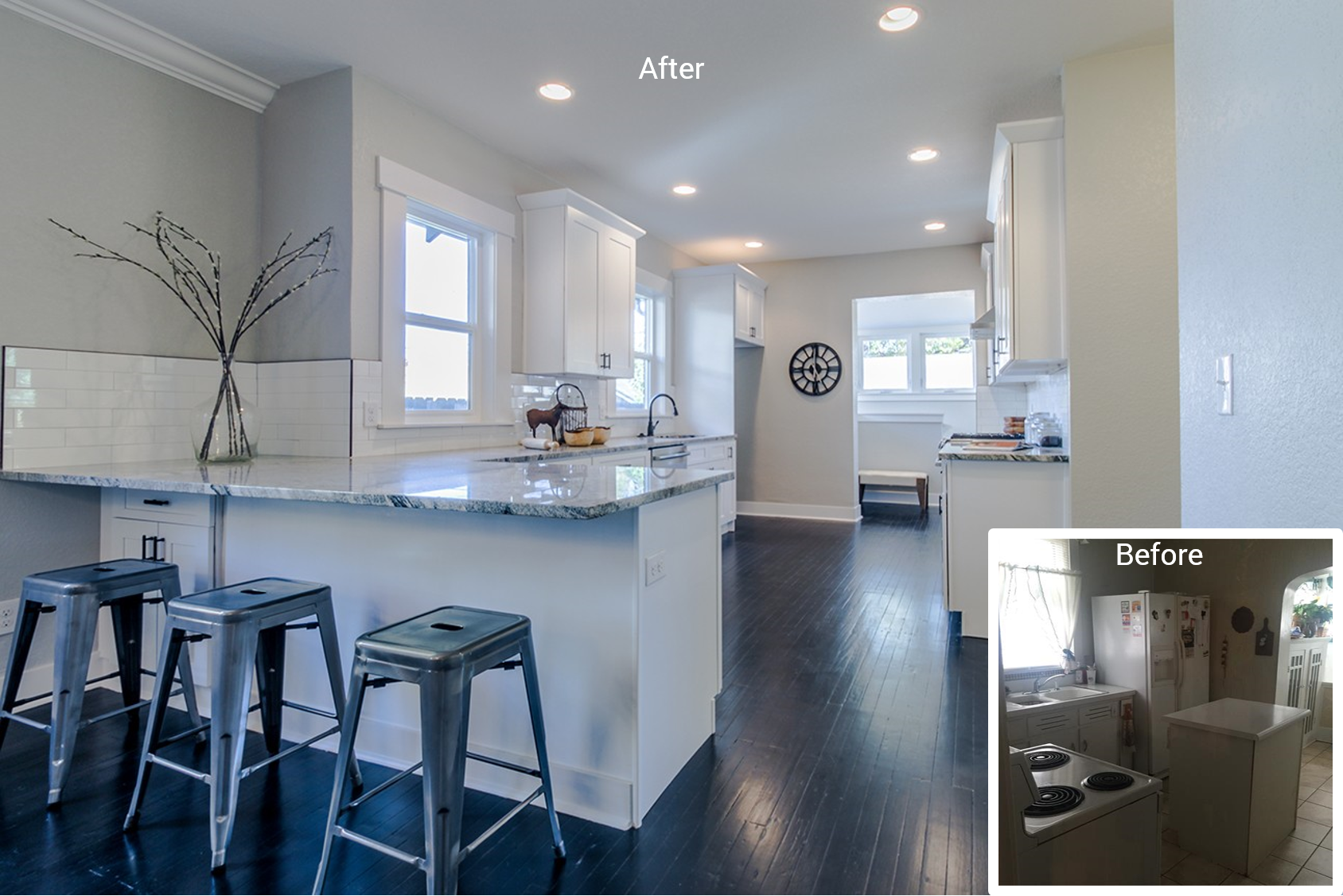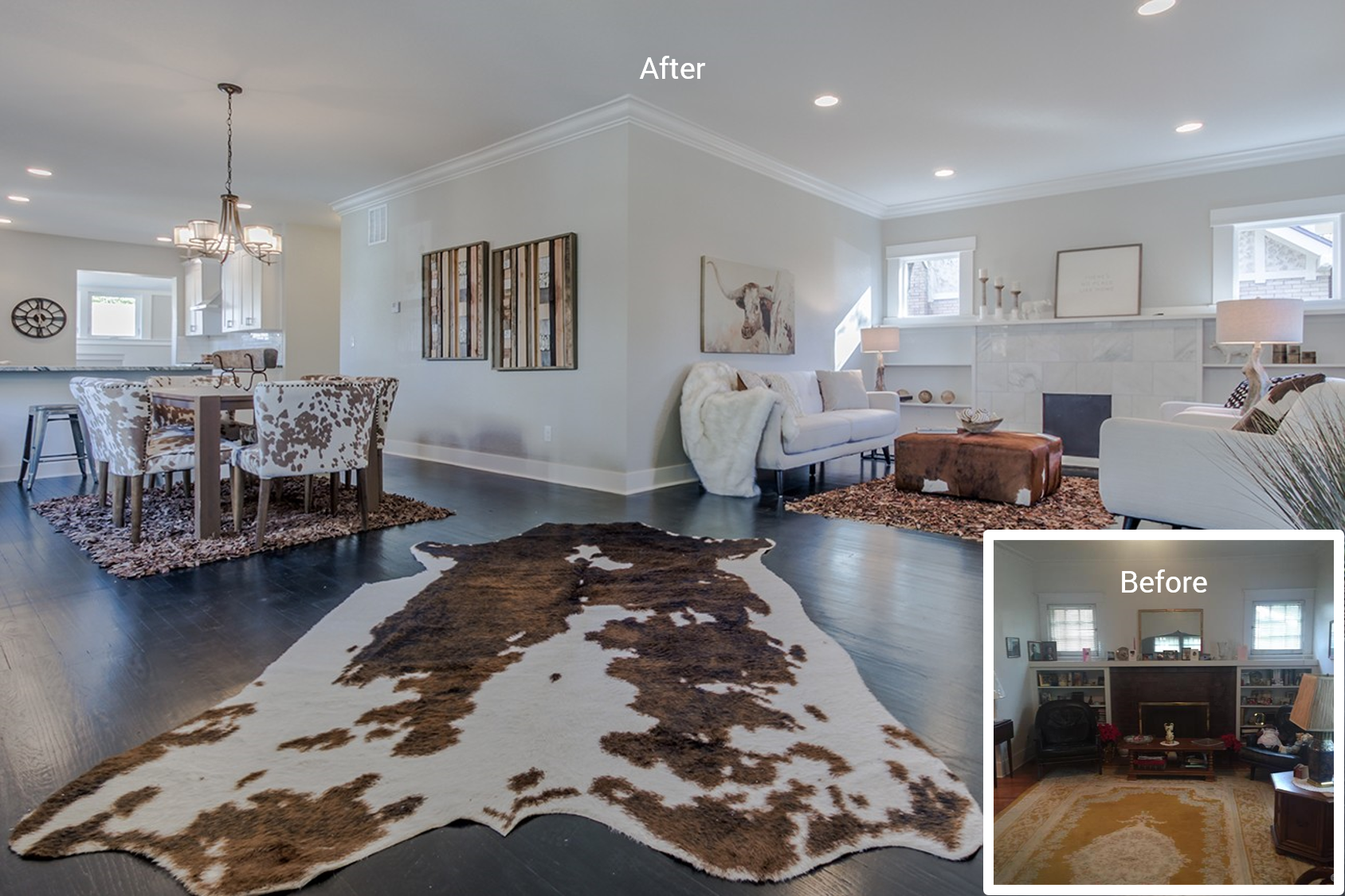 LIVING ROOM
Key Improvements
Vanessa Lynn, co-founder of Bene Homes, shares her thoughts on the Birch St. project. "This project was a complete remodel of the interior and exterior," she says. "We moved interior walls to create an open layout, relocated and added 3 bathrooms, created a master suite, finished the basement to add 2 bedrooms with egress windows, and a family room." For the exterior, Vanessa said, "we included new windows, a new roof, painting of exterior trim, new sprinklers, and sod."
The large ranch home in the desirable Park Hill neighborhood features original wood floors refinished in dark rich ebony, contrasting the new light and bright walls and trim. The living room features the original built in shelves around a gas fireplace. The floor plan is open and inviting with lots of natural light coming through the new double pane windows. The gorgeous kitchen is large, with lots of storage space, featuring SS appliances and beautiful granite counter tops. The custom white shaker cabinets are the backdrop and offer loads of storage space in the kitchen. The main level master bedroom and bathroom are light and airy, with a relaxing ambiance throughout. The fully finished basement features two additional bedrooms and a gorgeously renovated bath. The family room is the perfect place to spend time with the family around a cozy wood burning fireplace.
Obstacles
"Yes there were a few obstacles, as usual," shared Belvin, "but the project still ended up being successful for us." However, one setback was that the city required a beam that was installed to be engineered during the framing inspection. "This stopped construction for 3 weeks while we waited to get an engineer out to the job site," added Vanessa Lynn.
Another great learning experience that Vanessa Lynn shares involves working with subcontractors. "We need to hold our subs more accountable," he says, "and if they don't show up to do the work when they say they will, we need to move to more reliable subs quicker." The project did go approximately two months longer than planned, with both the beam inspection and underperforming subs contributing to the extended timeline.
"Private Money Immediately is easy and professional to work with. With an out of pocket money upfront for their due diligence and qualification process, we were able to meet thier requirements. They do what they say they are going to do and make the process of funding, draws, and payoff very simple. Give them a shot, if you compare all that they have to offer, you will not find a better private money lender"
Belvin & Vanessa Lynn
Founders, Bene Homes